Reading self-improvement books doesn't work. What I want to say is just reading self-improvement books to change your life is not enough.
You also need to practically experiment and apply the theories or strategies mentioned in these self-help books.
Let's start with understanding:
What is self-improvement?
Self-improvement is the continuous process of refining your knowledge, status, character, and behavior by making active efforts to attain it.
Determined by making aggressive efforts towards bettering yourself in every area of your life, self-improvement is a time-consuming, leaner-centric, and application-oriented task.
Source: https://unsplash.com/photos/z1d-LP8sjuI
Whether it is finance, health, personal, spiritual, relationship, or professional, all these come under the big umbrella of self-improvement.
Now you would have often heard about the quote self-help is the best help. And the best way to attain this is by reading self-improvement books to change your life.
Facts about Self help books and market
In 2019, self-help books sales had gained revenue of 18.6 million, and the number of published books in the market had crossed the sales growth.
In 2019 alone, marketers sold 4.3 million units of self-help books. Hence you can imagine the clutter of chaos in the market about self-help books.
Self improvement books to change your life
There are various kinds of self-improvement books to change your life that are available in the market. If you want to become rich, you have a book called Rich dad poor dad, Think and grow rich. To improve your health, you can heal your life, Ikigai.
Then for overall spiritual and mental growth, you have Monk who sold his Ferrari, The power of your subconscious mind, Thinking fast and slow.
Similarly, if you want to develop your personality, you have 7 Habits of highly effective people, How to win friends and influence people, and Atomic habits. 
Source: https://unsplash.com/photos/OFZUaeYKP3k
Different forms of self-improvement content
From the clutter of so many self-help books in the market, you have to choose self-improvement books that work for you. With so much content available in the market and more coming along, you can choose from different forms available in the market.
Books are the cheapest and most readily acquirable source to gain knowledge about self-improvement. Something magical happens when you read books.
You achieve mentality shift, perspective change, language command, and personality development by reading good books. Reading self-improvement books that work can help you attain immense knowledge from your mentor's entire life experience within a short time.
Self-improvement and personality development are interrelated. Reading good self-improvement books can change your life, mend your relations, achieve excellent health, financial advice, spiritual awakening, etc.
Nowadays, you can also access book summaries in audiobooks format on various platforms like Blinkist and Shortform. For Hindi-speaking audiences, Pratilipi is the best platform for audiobooks.
Check out some distinct benefits of reading books. 
Today, with the increase in the use of the internet and technology, you can easily create and view self-improvement content that grows your personality.
Many video makers make summaries of self-improvement books to make the content available to you in audio-visual format. Videos are the most effective way to visualize and remember the content put forward by the authors or counselor.
Also, video summaries are time-saving and visually enticing to keep you entertained. If you are not much into reading books, video summaries are an active method to grasp the knowledge and content.
Example:
Hindi channels: Seeken, Great idea great life
English channels: Evan Carmichael, Escaping Ordinary (B.C Marx)
Counselors are people who are experts and have practical experience of self-improvement.
With the efficiency of their degree and study, they can help you to improve your life and bring about positive changes in your life.
One-on-one sessions with counselors ensure the right self-improvement results. But the charges of such counselors can be expensive.
Podcasts are the newest and the most intriguing source to consume any content. These are audio format digital files uploaded on the internet for their listeners.
Source: https://unsplash.com/photos/c1ZN57GfDB0
Usually, there is one host who engages and discusses particular aspects or things with the guests invited. Podcasts are just like old-fashioned radio coming into the trend with superior technology. You can access podcasts on computers, laptops, smartphones, iPods, and digital audio players.
Examples
Hindi podcasts: The Ranveer show (Hindi as well as English)
English podcasts: Tony Robbins Podcast
Mentors and experts of self-improvement and personality development often give lectures and conduct conferences to share their knowledge and experience with you.
If you are someone, who craves the element of reality and wants to experience an authentic experience of listening, viewing, and understanding concepts, then live lectures are the most suitable option.
Prominent speakers in the self-improvement and personal motivation field are Dale Carnegie, Robert Kiyosaki, Dr. Vivek Bindra, Sandeep Maheswari.
Does the self-improvement book work? Faults that make them incapable of working and remedies to make them work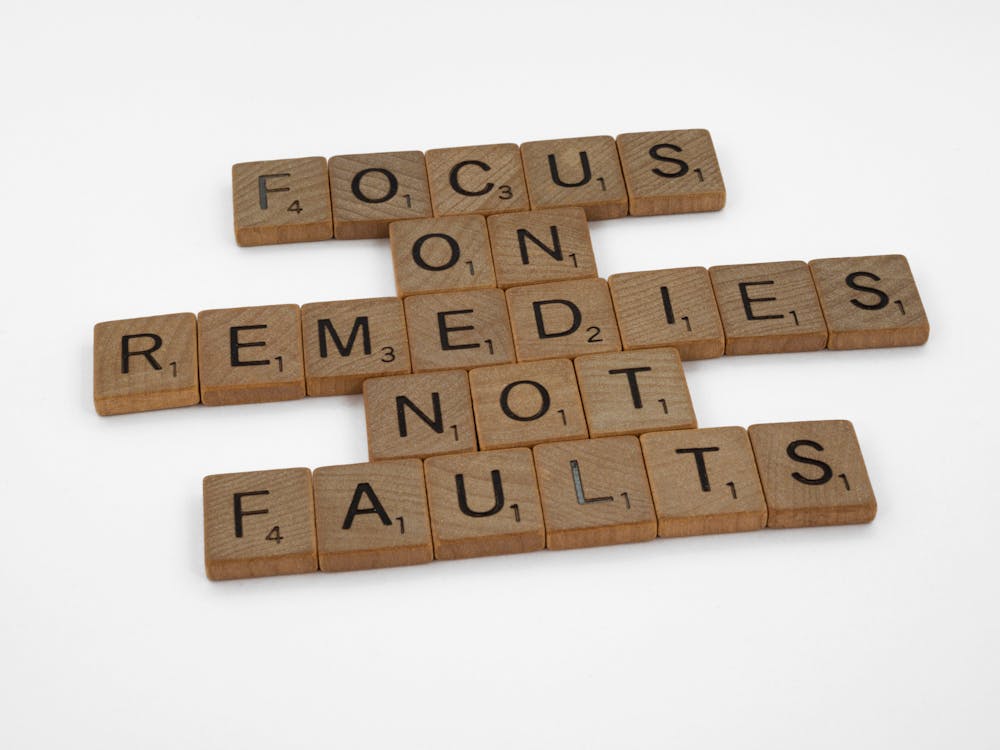 Source: https://www.pexels.com/photo/wood-typography-photography-blur-6845709/
Procrastination is the real culprit because of which self-help books don't work for you. Reading the book 'Think and grow rich is not going to make you rich. Following the techniques and strategies given in the book will make you rich.
You are so busy reading self-help books to change your life that you often forget to implement the learnings from the book in real life. The real work starts after you close the self-improvement book.
Reading books is only 10 percent of work the other 90 percent is about getting to work and implementing it to see the results. Most people procrastinate the action-taking phase, and hence self-improvement books don't work for them.
Whenever you read a self-help book to change your life, make sure you take at least one takeaway point or strategy from the book. It can be as small as reading for 10 minutes every day or as big as getting up at 5 in the morning.
Then apply the strategies in your real-life and check their actionability and reliability in your life situation. If these strategies suit your needs and solve your problems, then you will automatically repeat the activity.
For example, if you find reading a book for only 10 minutes a day has helped you immensely, you will automatically increase the time to read.
Knowledge and experience are two sides of the same coin. Without knowledge, experience is of no use, and without experience, knowledge is of no importance. Theory and experience often go hand in hand.
Knowledge is the exposure to new ideas, context, others' experiences, and examples to enhance your learning. Experience comes from actually taking action, combining theory with facts, and making knowledge adaptable enough to solve your difficulties.
People are so busy with the knowledge that experience matters little to them. But experience is what brings improvements in the person and makes him more knowledgeable.
When you were small and wanted to ride a bicycle, did you only observe people riding it and learn it? No. you decided to practice cycling. You first started with four wheels to ride it, then with three, and finally with 2.
You even fell so many times and had scars indicating your predicaments, but you kept going, and finally, you were riding your bicycle.
That is the difference between theory and practical. Hence, when you read a self-help book, you have to follow three aspects. First, observe, then practice, and finally master it. Though a slow process, this will give lasting results.
Now you are reading self-help books and gaining a lot of knowledge from each book you are reading. After learning so many things from different books, you get confused. Now imaging you read Rich dad and poor dad.
You are mind blown by all the facts and strategies mentioned in the book. Influenced by that book, you want to build your own business, so you read a book about building a business, then marketing, then fiance, and then e-commerce.
It goes on, and eventually, you end up with so much information that you don't know how to use it. The more you read, you will understand and realize that there is so much more that you don't know.
The path from information overload to the application of knowledge is uncomplicated. First, read a book that interests you. Then apply the strategies and put them into action.
If the action is suitable, then repeat them, and if the activities are not fitting and are error-oriented, discard the idea. There are billions of self-help books published every year, and there are trillions of strategies mentioned in those books.
Not every ideology is bound to work for you. So do your research before choosing a book. The key is to find the right self-improvement book that works for you.
The self-improvement and self-help industry is a billion-dollar industry that has flourished a lot in recent years. Self-improvement is not a sure-shot way or path. You reach your destination or end goal by tackling various difficulties and challenges along the way.
Please don't shy away from challenges because challenges become obstacles when you bow to them. And the key to success is to focus on goals and not obstacles.
The base of the book is dependent on the author's personal experience, and sometimes what worked for the author may not work for you. With so many strategies, ideas, goals, tactics, and ideologies, you can get confused and lost.
Also, there are so many authors and mentors whose books are famous, but how to choose self-improvement books that grow your personality is the core question the answer to which depends on individual preferences.
The main factor you should focus on is the influence the book or content has on your life after reading and applying the concepts practically. If the impact is powerful, it will build trust in the author's writings.
Trust and faith can work wonders in one's life. You shouldn't just copy the book's information but also keep a keen eye on outputs and follow the results.
And if you are not getting similar results, tweak the strategy to gain the desired results. Self-improvement in itself says to improve, which means changing according to your situation, surrounding, and results.
Conclusion
Reading self-improvement books to change your life can work in reality. It is just that either you procrastinate to take the action, don't have appropriate content, or fail to apply the strategies efficiently.
Also, to ensure the maximum benefit of books read, make notes of the essential aspects and refer them as and when needed.
And if you aren't benefiting from the book, you are reading, switch to other self-help books. The core to knowledge is interest. If a particular book doesn't interest you, then it can never help you.
Self-awareness is the starting point of self-improvement and personality development. A person who doesn't see his downsides can never think about remedying them.
Also, don't take these downsides negatively. No one is perfect. Self-improvement is the process of improving oneself, not replacing oneself.